The Phone Interview (2021)
After being rejected from her dream sorority, a determined girl decides to kidnap a local cashier at an elite supermarket in order to gain community within their rankings.
Shot entirely in Feburary 2021 during the pandemic with a core creative team of two people
WINNER OF THE VISUAL AWARD at the DEEP CUT FILM FESTIVAL 2022:
"Can there be enough pink? For directors Gascho and Jones, the answer is no, as the hue dominates the frames in this gem of a short. The set dressing is perfect, the costumes are perfect, and each shot is perfectly composed. For a film that takes place mostly in one room, these filmmakers make the absolute most of every square inch in the frame."
NOMINATED FOR BEST EDITING AT THE UWPG Film Festival , 2021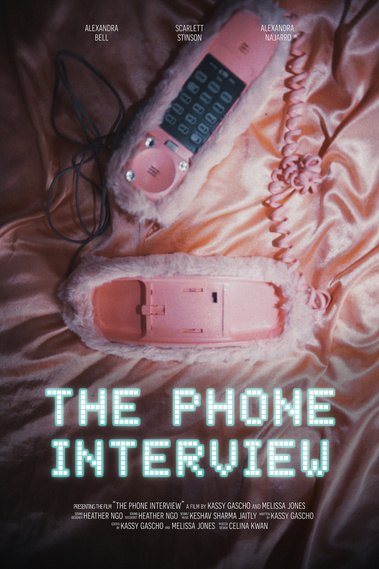 LIT LAUGHS INTERNATIONAL COMEDY FILM FESTIVAL | Semi Finalist
FOGGY ISLE FILM FESTIVAL | Official Selection
ANOMALY - THE ROCHESTER GENRE FILM FESTIVAL | Official Selection
CALGARY INDEPENDENT FILM FESTIVAL | Semi Finalist
TORONTO INDEPENDENT FILM FESTIVAL OF CIFT | Finalist
NIGHTPIECE FILM FESTIVAL 2021 (EDINBURGH FESTIVAL FRINGE) | Official Selection
TORONTO INDIE HORROR FESTIVAL | Official Selection
VIDEODRUNK FILM FESTIVAL| Official Selection
HAMILTON FILM FESTIVAL| Official Selection
UWPG FILM FESTIVAL 2021| Official Selection
BLOOD IN THE SNOW FILM FESTIVAL | Official Selection
Directed by Kassy Gascho & Melissa Jones
Written by Kassy Gascho
Cinematography by Kassy Gascho
Edited by Melissa Jones
Sound Recording & Design by Heather Ngo
Original Score by Keshav Sharma-Jaitly
Poster Design by Celina Kwan
Daphne played by Alexandra Bell
Ruth played by Scarlett Stinson
Lola played by Alexandra Najarro